Integral Therapist Including Psychotherapy, Yoga Therapy, Energetic therapy , and awareness development: for children and adults.
Qualifications:
Certified NLP Practitioner by INLPTA – International NLP Trainers Association. New Caledonia – 2011
Certified in hypnosis from the California Hypnosis Institute of India ( EKAA). 2010
Certified in Regression Therapy in 2009 
Certified Thai yoga massage practitioner by Sunshine school from Chiang Mai. 2007 and 2014
Student of Ashtanga Yoga of  R.Sharath Jois since 2007, grandson of Pattabhi Jois at the Sri K. Pattabhi Jois Ashtanga (Mysore).
Student of Vipassana meditation since 2001.
Nurse Diploma in France in1988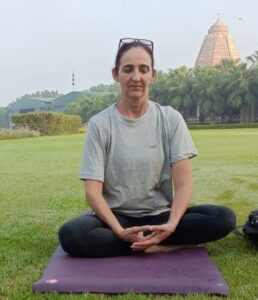 Classes and healing sessions:
Ashtanga yoga /Hatha yoga / Therapeutic yoga Instructor
Mindfull Meditation & Chakra Meditation
Psychotherapy: for children and adults.  The treatment involves therapeutic conversations and interactions between a therapist and a child or family. It can help children and families understand and resolve problems, modify behavior, and make positive changes in their lives. There are several types of psychotherapy that involve different approaches, techniques, and interventions. At times, a combination of different psychotherapy approaches may be helpful.
Hypnotherapy-Sessions
Health Coach and Mindful coach for personal development and development of consciousnes
Acupressure Therapeutic massage
Mindful program:  
  Mindfulness-Based Stress Reduction
Approach your life with more composure, energy, understanding and enthusiasm

Develop the ability to cope more effectively with both short-term and long-term stressful situations

Enhance your ability to manage and reduce pain levels in many instances

Improve your focus, resilience and capacity to recover more quickly from challenging events
Offered in three formats: an 8-week program in-person, or an intensive 6-day residential program. Learn to access and cultivate your natural capacity to care for yourself, finding greater balance, ease and peace of mind.
  Healing Treatment Program:  Program includes one to one talk sessions using NLP toolbox , 1 acupressure massage. To heal  sleeping disorders, anxiety,  enhance your relationship   ( bad-breaking relationship, no relationship)
   Customize Healing Treatment Program: Include counseling, one to one talk sessions,  Sound healing with scientific meditation. Some other  treatments or exercises  are used if required adapted to the particularity of the person's profile, his ( or her) symptoms and  needs.  For  Healing  Depression, General Anxiety Disorder, hyperactivity, anger management, chronic fatigue. etc 
Christine was born in France in 1967. After completing her studies as Nurse in 1988, she started working as a nurse and soon started traveling in India seeking "for the truth" through pilgrims around Rishikesh
A few years later with the financial support of sponsors she  crossed  The Himalays with horses from Kathmandu to Srinagar for 8 month, later on, she followed the Mekong river from his stream in Tibet ( Xining- Kham) though South east of Tibet, Yunnan, Laos, Vietnam and Cambodge.
In 1995 She created Orient explorers a tourism and traveling association and worked within until 2002. She came across Vipassana meditation  and decided to settle in Auroville in 2002,  an intentional spiritual community located in South India.
In 2004, after two years studying  Hatha Yoga and Yengar Yoga, she discovered  Ashtanga Yoga  and started to  study with Monica Marinoni until 2016 and  since 2007  under the guidance of Sri Sharath Jois  (Sri K. Pattabhi Jois'grandson)  at the Krishna Pattabhi Jois Ashtanga Yoga Institute in Mysore, India.
In 2010 she opened " Yoga et Bien-etre" in New Caledonia , where she was teaching for 4 years, running Hatha Yoga class evenings  and daily Mysore style program in the mornings. And the last year, she started to offer workshops on Yoga and meditation including Satsang about Yoga sutra, relaxation and pranayama.
For 13 years she studied the yoga through her own daily practice and teaching, the mind through regular and repetitive meditation retreats, she gave importance to the sadhana, she learned more about the body through her training and experience in Thai yoga massage and about the mind through her training and practice in NLP .
 Languages: English, French